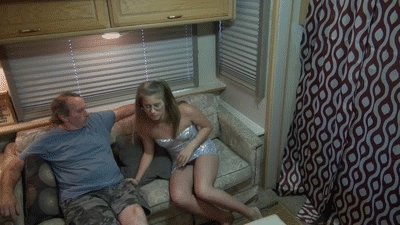 18:12 video
Dear Diary,
After what happened with my parents I wound up living with my Step Uncle Jay. He was pretty easy to get along with and I kinda like the way he would check me out from time to time. I'm kind of ashamed to admit it but it really turned me on.
I found myself doing things intentionally to tease him I would walk around in my underwear and shower in his room knowing he would watch. The teasing got me fantasizing about the things I wanted him to do but no matter what I tried he wouldn't take the hint. Finally one night I decided to push things to the limit.
I went out for a few hours and had a few drinks then headed home. I acted way more tipsy than I was and started flashing my step uncle with my bare pussy. One thing lead to another and finally my Step Uncle made his move grabbing my breast then sucking the nipple.
He tentatively moved his face to my bare pussy and I came almost instantly. Uncle Jay ate my pussy til I came again then put his big cock in my mouth. His cock throbbing in my mouth soon had me begging to get fucked.
Step Uncle Jay entered me slowly then picked up the pace til I came again. He slowed things down and devoured my pussy then entered me again. Step Uncle Jay pounded my tight pussy harder and harder til I came again as he blasted my pussy with cum. That was so intense I can't wait to do it again so he can cum inside me.
Xo Taylor
Category: OLDER MEN / YOUNGER WOMEN
Related Categories: TABOO, AMATEUR, UPSKIRT, BIG LOADS, 18 & 19 YRS OLD Keywords: taylor blake, niece, tit play, sloppy head, amateur, family, old young, taboo blowjob, fauxcest, upskirt, spinner, cumshots