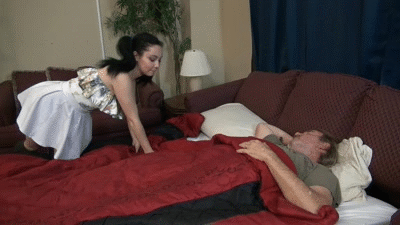 17:02 video
All My Fantasies Came True
Dear Diary
As you know,ever since StepDaddy adopted me I've been having really strange dreams. The boys at school were never mature enough to get any further than 2nd base and I think I know why. Between the dreams and my feelings lately I wanted someone like StepDaddy,
The night of my 18th birthday StepDaddy drank too much to drive so he stayed on my uncles couch. After everyone was in bed I went in to cuddle with StepDaddy. When I knelt on the bed something strange came over me and I started getting horny.
Next thing I knew I pulled down StepDaddys shorts and was sucking his cock. Daddy realized what I was doing and started freaking out a bit. When I explained my desires to give him my special gift his attitude completely changed.
Soon StepDaddys mouth was pleasing my virgin pussy until I came hard. StepDaddy entered me gently and waves of pleasure wracked my body. His hands on my breasts had my nipples on fire.
StepDaddy picked up the pace soon and made me cum again. StepDaddy must have really enjoyed it too because soon he was cumming on my tiny little ass. StepDaddy was so good to me that night I'll never want another man, I just hope he feels the same.
Xo Lenna
Category: OLDER MEN / YOUNGER WOMEN