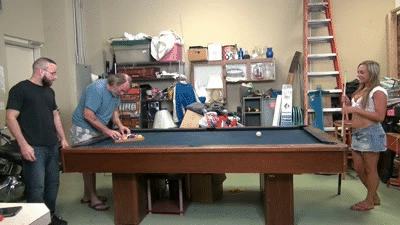 0:39 video
Dearest Janie,
I can't believe I haven't written you since the wedding. Things have been moving pretty fast here and life has gotten pretty complicated. A few weeks after the wedding we were playing pool at Johns dads place and we actually won a few games. John was pretty tired and we had a long drive in the morning so he headed to bed. I stayed to play another round with his dad and thats when things got pretty interesting.
I messed up on the break so I asked my father in law to show me a few pointers. The minute he got behind me my pussy started quivering. A few lessons later and I was melting in his hands. I don't know if it was the drinks I had earlier or just his touch but something had my motor revving like crazy. When he helped me make a really good shot I rubbed up against him and his cock was hard too.
Next thing I knew he had me bent over the pool table eating my pussy from behind. He was so much more skilled than his son I was cumming like crazy in no time. I knelt down and took his hard cock in my mouth getting it nice and wet. My father in law put me up on the table and started fucking me hard. His cock filled me so much better than his sons I was in heaven. We made love all over the pool table before my father in law blew his load all over my pussy. I really enjoyed it and want to do it again but it feels so wrong cuckolding my husband by fucking his father I don't know what to do. Please write me back soon.
Your BFF Tucker