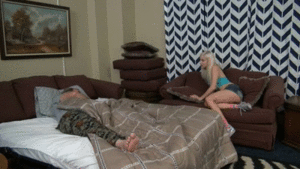 12:31 video
Dear Diary,
I went out partying the other night and when I stumbled in Step Daddy was on the pullout couch. Something inside me snapped and I was suddenly filled with strange desires. I felt like I couldn't stop myself as I crawled onto the couch with Step Daddy.
Before I knew what was happening I had Step Daddys cock in my tiny hands. I was so enamored I started to suck it and it got so hard. Thats when Step Daddy woke up and things got really intense.
I stripped off my clothes, straddled his cock and started riding him. Step Daddy was pretty shocked but soon started enjoying himself too. Step Daddy soon bent me over on the bed and pounded my wet pussy til he exploded deep inside me. I was still pretty tipsy but I knew enough to tell Step Daddy I'm not on the pill. I hope I don't wind up pregnant.
Xo Vera
Category: TABOO
Related Categories: CREAMPIE, IMPREGNATION FANTASY, AMATEUR, OLDER MEN / YOUNGER WOMEN Keywords: vera bliss, daughter, Step father, Step daddy