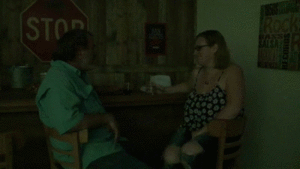 13:46 video
Dear Diary,
I went home for a family reunion a few weeks ago and on my way home I stopped at a bar in town. I had a few drinks and wound up meeting this older guy that couldn't stop staring at my HH tits. We hit it off surprisingly well and when it came time for last call I went back to his place for a bit.
He had a pool table set up in his garage so we started playing a game. When I leaned down to make a shot my tit popped out of my shirt and he took that as an invitation. His hands touching my huge tits felt oddly familiar and that really turned me on. He sucked and massaged my tits for a few minutes then we undressed and I returned the favor.
I sucked his cock then had him sit on the table so I could wrap my tits around his cock. He got so excited he put me on the table and started fucking me hard. My tits were bouncing everywhere as he fucked me to a wicked orgasm then exploded all over my pussy. I stayed the night at his place and you'll never believe what I found out the next day.
More Later
Xo Mya
Category: TABOO
Related Categories: BIG TITS, BBW, AMATEUR, ALL NATURAL, OLDER MEN / YOUNGER WOMEN Keywords: mya blair