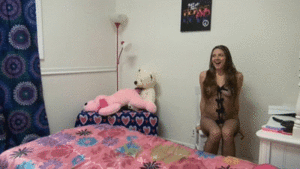 11:23 video
Dear Diary,
I had been away at school a few weeks and I was really missing Step Daddy. When he was finally able to come see me I was super excited. I dressed in Step daddys favorite fishnet outfit and brushed me hair nervously anticipating his arrival.
It wasn't long after he got therre that I got what I wanted, his hard cock in my mouth. Step Daddy didn't waste anytime and soon had me riding him til I came. Step Daddy was pretty excited too cause as soon as he bent me over he pounded me til he came inside me.
Unfortunately I hadn't been taking my pills and he creampied me on the day of ovulation so I wound up pregnant. I stayed away for several months but theres no denying my desires anymore.
Xo Sadie
This was Sadies 1st ever high risk creampie
Category: TABOO
Related Categories: IMPREGNATION FANTASY, ALL NATURAL, CREAMPIE, OLDER MEN / YOUNGER WOMEN Keywords: sadie holmes, fertility, knocked up, college girl