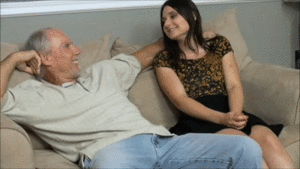 13:56 video
Dear Diary,
As you know I've been at Step Uncle Jacks all Summer. While Daddy was at the store I went in to thank Step Uncle Jack. We started flirting back and fourth and before I knew it I flashed him my tits.
Step Uncle Jack took full advantage of that opening and soon had me cumming hard on the couch. We pleased each other a bit then Step Uncle Jack slid his big cock in my pussy stretching it tight. He fucked me so good I even agreed to let him fuck my ass.
He eased his big cock in my ass and started fucking me slowly. It just started feeling really good when Daddy came home from the store. Luckily we got out in time but I'm gonna have to see Step Step Uncle Jack again later. I want more of that big cock in my ass.
Love Amy ;) (Taboo Roleplay, Amateur, Older Men)
Starring Amy Faye