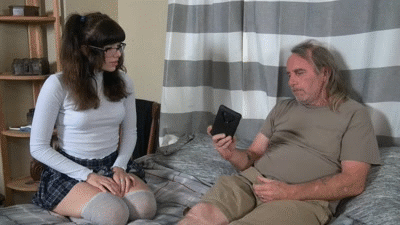 16:34 video
To Make Him Keep My Secret
Dear Diary,
Last week I got a message from my uncle that he needed to talk to me. After school I went to his house and let myself in. I found Uncle Jay in his room and sat next to him on the bed.
What he showed me next shocked me pretty bad. I shot a few porn scenes for extra money and my uncle somehow found them online. He suggested we tell my step-father together so I had to act quickly to change his mind.
I reached over and started teasing my uncles cock despite his protests. Before long his hard cock was in my mouth and he closed his eyes in bliss. When he did I took a selfie so I could blackmail him later but by this point I was too horny to stop.
My uncle pulled me into a 69 and soon I was cumming all over his face. I slid down his chest and slid his hardness inside me. My uncles cock felt so good I came again right away.
I rode my uncle while he teased my pussy and massaged my tender breasts then he got aggressive. Uncle Jay got behind me and pounded my pussy til he exploded inside me. Thats when I hit him with the blackmail. Add that in with me not being on the pill I'm sure Uncle Jay won't say a word!
XoXo Isobel
Category: IMPREGNATION FANTASY
Related Categories: OLDER MEN / YOUNGER WOMEN, TABOO, BLACKMAIL FANTASY, FETISH, 18 & 19 YRS OLD.
Keywords: isabel moon, family, blowjobs, big cock, young and innocent, impregnation fantasy, fauxcest, blackmail fantasy, pawg, upskirt, spinner, tiny girls.