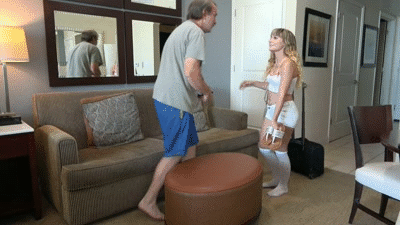 24:08 video
Just To Get Me Alone
Dear Diary,
My uncle invited me to spend a weekend at the beach with my cousins and I was so excited. When I arrived at the hotel Uncle Jay was waiting on the couch. When I asked where my cousins were he told me they would be coming tomorrow.
Uncle Jay apologized for having only gotten 1 bed and headed to the bar. My imagination started running wild thinking about sharing a bed with my uncle. Surprisingly enough it really turned me on.
Later that night when Uncle Jay was in bed I snuggled up next to him under the covers. I felt him put his arm around me so I teasingly moved it to my breast. Next thing I knew Uncle Jay was sucking my nipples and rubbing my panties.
Before long my uncles head was buried between my legs and I was cumming hard. Uncle Jay laid back then and let me suck his hard cock. We moved into a 69 and I came yet again.
By then I had to feel him inside me so I climbed on top and straddled my uncles cock. We made love for what seemed like hours before Uncle Jay blew his load all over my belly. Thats when my uncle made me promise to keep it a secret...... Since he lied first I'm sure it's ok to break that promise just a little.
Xo Anna
Category: TABOO
Related Categories: OLDER MEN / YOUNGER WOMEN, ALL NATURAL, SMALL TITS, CUMSHOTS, 18 & 19 YRS OLD.
Keywords: anna mae, finger fucking, blowjobs, big cock, young and innocent, family, old young, taboo blowjob, fauxcest, upskirt, fantasies, tiny girls.