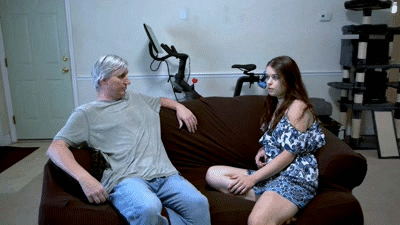 17:13 video
Dear Diary,
As you know we're all in the start of some crazy quarantine thing. StepDaddy told me yesterday that Step-Mommy would be at grandma's until it was all over. How am I gonna survive for days stuck with just him?
Dear Diary,
It's only day number 2 and I'm already going stir crazy. I haven't been able to see my boyfriend to get laid or anything. Since StepDaddy's napping I guess I can take care of myself.
As my fingers caress my pussy my imagination begins to run wild. My thumb became a huge cock in my mouth plunging deep into my throat. The closer I came to orgasm the more vivid my fantasy became.
I started imagining getting fucked from behind and suddenly I looked back to see who was pounding me so good. When I realized it was StepDaddy I was dreaming about I came so hard I nearly screamed. I can't believe fantasizing about StepDaddy made me cum that hard. If this quarantine doesn't end soon I may have to make my fantasy a reality.
Xo Anastasia
Category: TABOO
Related Categories: DADDYS GIRL , FANTASIES , OLDER MEN / YOUNGER WOMEN , BIG DICKS , BIG TITS
Keywords: anastasia rose , step-daddy step-daughter , blowjobs , pov taboo , big tits , family , kinky step-daughter , pov blowjob , deep throat , fauxcest , fantasies , tiny girls