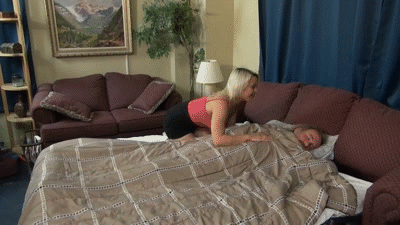 18:15 video
And I Don't Care Who Sees
Dear Diary,
After several weeks away at school I finally came home for a visit. I knew Step-Daddy was spending the night at my uncles so I went there first. I let myself in quietly and Step-Daddy was napping on the couch.
I was so excited to see him I woke him as quietly as I could. At first he tried to resist but his cock told a much different story. I guess he figured out I didn't care if we got caught on the security cameras because he started playing with me too.
I sucked Daddys big cock for a bit then teasingly slipped out of my clothes. Step-Daddy had me sit on his face and suck his cock some more until he made me cum really hard. I slid down and impailed myself on his hard cock riding him slowly.
Step-Daddy grabbed me from behind and played with my tits til I came again. We made love for quite some time before Step-Daddy finally blew his seed all over my pussy. That was so intense I want to do it again but first I have to find the footage from my uncles camera.
Wish Me Luck
Xo Maria
Category: OLDER MEN / YOUNGER WOMEN
Related Categories: TABOO , ALL NATURAL , CANDID , BEHIND THE SCENES - BTS , BIG BUTTSKeywords: maria jade , fauxcest , step-daughter , amateur , role play , step-daddy step-daughter , taboo sex , bouncy butt , pawg