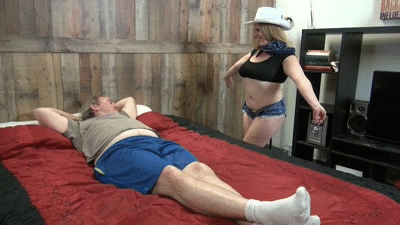 7:55 video
Dear Diary,
With Halloween coming up I decided to try on a few outfits. After a bit I decided to be a cowgirl this year and went to show Step Daddy. When I walked into the room he was pleasantly surprised.
When I told him I wanted to be a cowgirl he said I'd have to learn to ride and I knew exactly what he meant. I untied my top and climbed on the bed to suck his cock. Soon as he was nice and hard I slid off my shorts and climbed on top.
Step Daddys cock filled my pussy as I rode him like a cowgirl would. Harder and harder he bucked til I came really hard. Step Daddy bucked me onto my back and pounded my wet pussy til he exploded all over me. This is gonna be a great Halloween!!
Xo Dani
Category: OLDER MEN / YOUNGER WOMEN