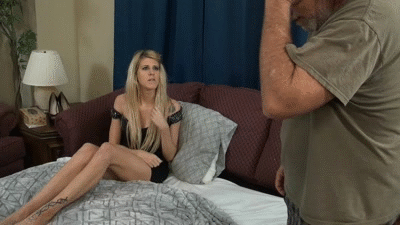 15:40 video
Dear Sandy,
I can't believe it's been this long since I've seen you. I know the wedding was only 3 months ago but it seems like it's been forever. Things have been a bit wild since the wedding and thats an understatement.The first few weeks were great but then Derek started partying a lot more.One night not too long ago I went out with him figuring it might be good for both of us, boy was I wrong. We ended up getting in a big fight and I stormed off. I wound up at his dads house tipsy and in tears.
My father in law was pretty understanding and offered me his pullout couch for the night. He brought me a pillow and I asked him to sit with me for a bit. Next thing I knew I was crying on my father in laws shoulder. I don't know if it was the partying or what but something got me pretty turned on. My hand strayed to my father in laws crotch and things got really hot from there.
His cock was hard in no time and soon it was deep in my throat while my father in law fingered my wet pussy. I was so turned on I straddled him and started riding his hard cock like crazy. Next thing I know he's pounding my pussy 10 ways to Tuesday and I can't stop cumming. When he finally came it was deep in my pussy and he filled me to the limit with his seed. We fell asleep with my pussy still bubbling without a care in the world. Unfortunately my husband figured out where I was and caught us together the next morning. I don't know what to do but I'm definitely gonna keep cuckolding my hubby as long as possible.
Love Ya
Lux